About Us

I have been a custom bootmaker handcrafting Made-to-Measure footwear since 1970. I have specialized in Made-to-Measure "Mountain Footwear" for over 30+ years. Offering; Hiking Boots, Backpacking Boots,Cross Country Ski Boots,Backcountry Ski Boots , Mountain Shoes and Hiking Shoes. (Technical Mountaineering Boots, Double Mountaineering Boots and Double X-C Boots for quite a while there too).

A long time ago I sold and repaired hiking boots (at "Mountain Traders" in Berkeley, CA. and then at the world famous "Komito Boots" here in Estes Park, CO). By doing this I could clearly see why certain boots fit customers better than others.When the boots came back in for re-soling or a repair job, I saw what features made the boots stronger and last longer. When I started making hiking boots, I borrowed the best features from many of these different boot designs and came up with my own boot design. My Hiking Boots are specifically designed to provide unprecedented durability by overcoming the structural failures occuring most frequently in popular brands of hiking footwear.

Today most of the "Made-to-Measure" Hiking Bootmakers in the USA and Canada are using my hiking boot features. Why get Custom Made Hiking Boots? Because they fit better and last longer. I just re-soled a pair of "John Calden Hiking Boots" my customer got from me in 1991. He wanted to get new soles on them before he climbed Mt Meeker (elevation 13,865'), located in "Rocky Mountain National Park". Even if I think my "John Calden Hiking Boots" would be a good investment to any serious hiker or adventurer, most of my customers just can't get a proper fit at a regular Boot Store."Custom Boots" are made to your specifications,this is a big plus, but it has nothing to do with fit. "Made-to-Measure" Boots , a different option, means that your boots are made to the exact measurements and outlines of your feet. I fit each customers feet individually. If you have a size 10 left foot and a size 9 right foot that's what I will make for you.Super wide feet,super narrow feet, size 19,or size 3, no problem here. Feet hurt, foot problems; I have found in all my years of bootmaking that many of my customer's foot problems have been caused by poor fitting footwear. Many of these problems went away by just getting a proper fitting pair of boots. "Custom Made Orthotics" are also available if needed.

Since my Boot Shop is located in the beautiful location of Estes Park,CO, a hikers paradise, many of my customers like to come here to order their boots in person. Estes Park (elevation 7522') is a small mountain town that is located at the eastern entrance to "Rocky Mountain National Park". Many of my customers also like to pick up their Boots at my shop. Then they can go into Rocky Mountain National Park and get going on some of the best hiking trails in the world. But, if you can't get to my Boot Shop, I can mail you my easy to do, carefully designed, "Measuring Kit" that has worked for my customers for 30+ years. I hope I can make you a pair.


Calden's popular Hiking Boot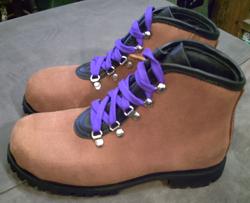 (rough-out uppers)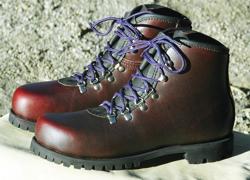 (smooth-out uppers)